We're not going to leave you without something to light you and yours up this Christmas which why we think these flashy beanies will make a great buy. Fun Christmas-themed décor and clothes have always been a part of the festivities and this LED-lit beanie will put a perfect cap – literally and figuratively – on any ensemble this Christmas.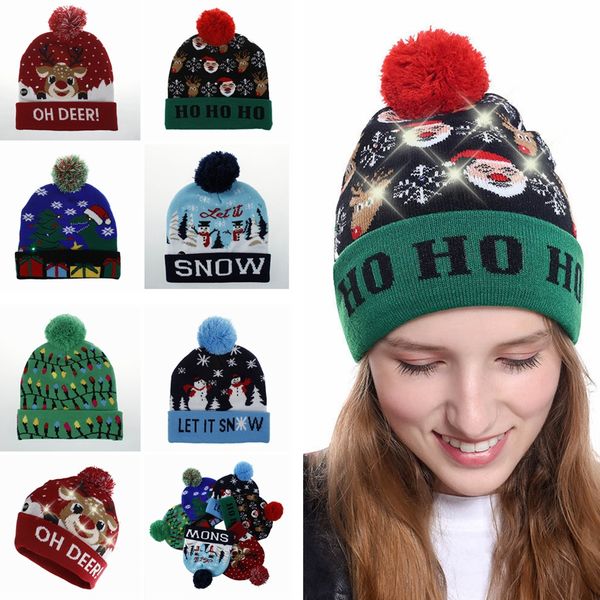 Why don't we take a detailed look at these cuties? For starters, they're knitted with wool so you don't have to worry about they're being comfortable, because they are. Each cap features a jacquard design .i.e. all those colorful images and patterns of cute santas, deers, snowmen and even the funny messages and inscriptions are all woven into, and not printed onto – the cap and this means longer lasting designs. For extra comfort, it has a double layer to keep out the chills and keep your head warm. We also like the fact that the bulbs, wiring and battery box with the on/off switch are located inside the knit and are unobtrusive and inconspicuous. It's also safe and can be used by both adults and kids.
They come in many designs and colors and will make great gifts and souvenirs for the festivities. The LEDs only come on one side, the front, of the caps. They're lightweight and come with batteries included. You're welcome to place your orders from any of the suggested stores.
Minimum order quantity: 10
Price in Yuan: 25.00
Price in Naira: 1375.00
Weight: NA
Minimum order quantity: 10
Price in Yuan: 25.00
Price in Naira: 1375.00
Weight: NA
Minimum order quantity: 10
Price in Yuan: 25.00
Price in Naira: 1375.00
Weight: NA
*Reference weight: 0.05kg
On Aliexpress:
Price: $ 4.86
Price in Yuan: 34.02
Price in Naira: 1759.32