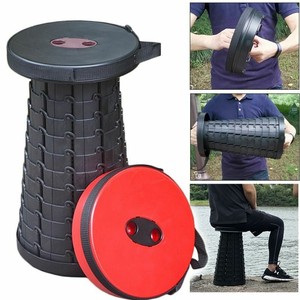 Off the top of your head, how many times have you had to wait in line this month alone: once a week, every morning or every morning and evening? Many would say a few times while some others will say they do so twice a day, every blessed day of their working lives. This shouldn't come as a surprise as many of us commute to work and have to wait in long queues at bus stations almost every day. There are other places where we have to stand in queues; ATMs, airports and service desks are good examples. Now, if there is anything we can all agree on it's the fact that those waits can be very trying and that it'd be nice to have a place to sit during those times. The Incredible Retractable Stool was invented to meet this need and more.
It's a handy solution that has had many saying their heartfelt thank you(s) to whoever thought up this product. This stool is strong, reliable and sturdy thanks to its material and construction. It's made of ABS plastic. This material is known for its resistance to corrosion from chemicals and its high impact resistance. What this translates to is durability and convenience as the stool will not be damaged by accidental spills from hot drinks or any other chemicals that it may come in contact with. Thanks to these points, it's also weather –proof. When it comes to construction, this stool is designed with an ingenious link connection that enables it to extend and collapse on demand. It can also:
Extend up to 18.5 inches and fold to become only 2.3 inches tall
Be easily carried by its shoulder strap, thanks to its lightweight size
Carry up to 130kg without budging
Be used at parks, festivals, picnics and more
Order now!
Minimum order quantity: 5
Price in Yuan: 65.00
Price in Naira: 5200.00
Weight: NA
Minimum order quantity: 2
Price in Yuan: 38.00
Price in Naira: 3040.00
Weight: 1.5kg
Minimum order quantity: 2
Price in Yuan: 38.00
Price in Naira: 3040.00
Weight: 1.48kg
On Aliexpress:
Price: $ 16.74
Price in Yuan: 117.18
Price in Naira: 6059.88